FLAVORED SESAME SEED - SOY SAUCE FLAVOR
Flavored sesame seed – soy sauce flavor, is part of traditional Eastern food cultural. Especially, a popularity usage on Chinese, Japanese, Korean cuisines.
A well balanced of white sesame embedded soy sauce are popular and sparking flavor in the market. This product is one stop for you to save times from preparing manually. It is perfectly for topping on cooked rice, sashimi, sushi, salad, seafood and BBQ etc. An easy way to enhance food application's flavor and bring up the tasty ever than before.

We are delighted to introduce to you our Flavored Sesame Seeds. It can be widely applied to not only Asian-inspired dishes but also Western-styled cuisines. Add a little zest to your dishes like salad, sushi, BBQ or just enjoy it directly as a snack. Feel free to ask for more information about this product.

Application of the product:
Home-made dishes:sushi roll/BBQ/salad
Various of packing size available for Food industry/Catering/Retail buyers with OEM services
Suitable for Japanese Cuisine/Korean Cuisine/ Western Cuisine
Premium quality with unique product/ Export worldwide

Flavored Sesame Seeds give your dishes special
Made from the finest sesame seeds, Foreway flavored sesame seeds retains outstanding sesame aroma with marvelous flavor, including Smoked, Soy Sauce, Garlic, Wasabi, which will give your dishes a special note.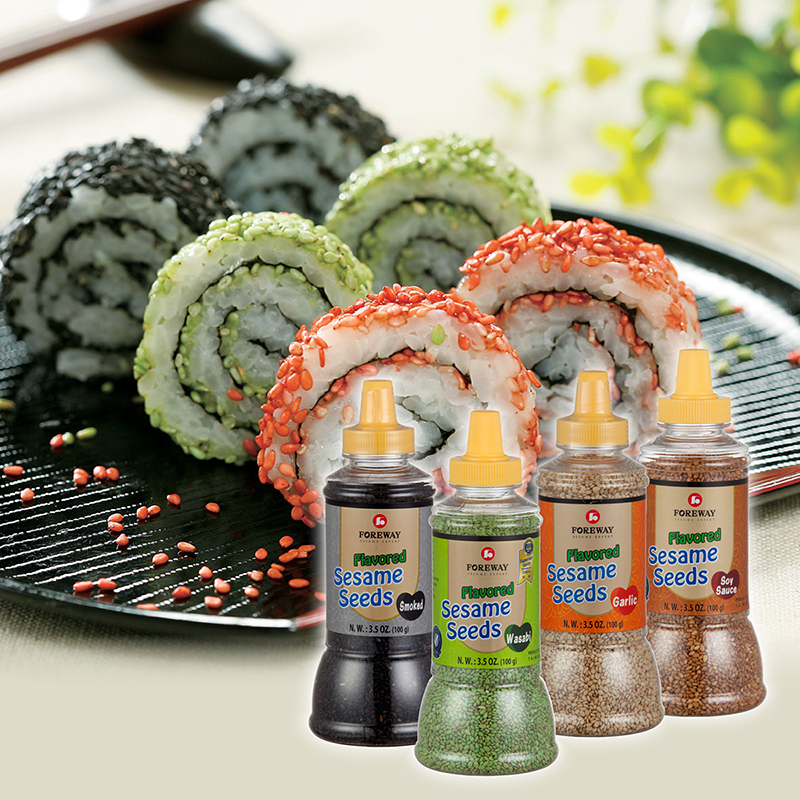 Current available size
100gm (PET Bottle)
Weight:100 gm
Carton:12 bottles / Carton
N.W. :1.20 kgs / Carton
G.W. :1.96 kgs / Carton
Shelf Life : 12 Months
454gm (PET Bottle)
Weight:454 gm
Carton:12 bottles / Carton
N.W. :5.448 kgs / Carton
G.W. :7.00 kgs / Carton
Shelf Life : 12 Months
1kg (Vacuum Bag)
Weight:1kg
Carton:12 bags / Carton
N.W. :12.0 kgs / Carton
G.W. :13.2 kgs / Carton
Shelf Life : 12 Months
15kgs (Aluminum Foil Paper Bag)
Weight:15 kgs
Carton:1 bag / Carton
N.W. :12.0 kgs / Carton
G.W. :16.1 kgs / Carton
Shelf Life : 12 Months